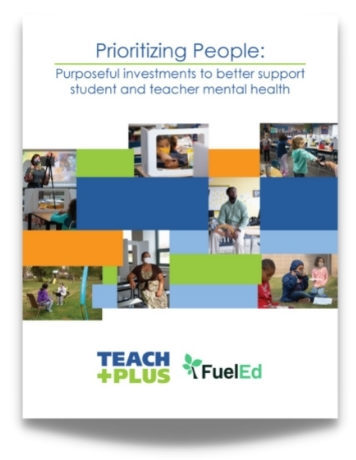 A new report from FuelEd and Teach Plus looks at the pathways to strengthen mental health and social and emotional supports in schools

The COVID-19 pandemic has taken a heavy toll on the mental health and the social and emotional well-being of students who have experienced increased anxiety, stress, and loneliness. Teachers were equally as affected, experiencing burnout, job-related stress, and depression.
As schools prepare for a new academic year, educators are making clear that reversing these negative mental health outcomes must be a high priority. To provide school, district, and state leaders with teacher-driven recommendations on using the resources from the Elementary and Secondary School Emergency Relief (ESSER) fund to address the pressing mental health challenges, FuelEd and Teach Plus jointly released a new report, Prioritizing People: Purposeful investments to better support student and teacher mental health.
"The hardships of this pandemic brought forth the persistent mental health challenges that plague our system, affecting both students and educators. We hope that school and policy leaders will take urgent action to adopt the recommendations in this report, including attending to the social and emotional well-being of students and teachers, expanding mental health supports in schools, and strengthening the relationships students need to be well and to thrive in their learning," said Roberto J. Rodríguez, Teach Plus President and CEO.
Prioritizing People is based on a survey of 509 teachers from 29 states and the District of Columbia. For the report, the researchers organized the findings and the recommendations within the mental health framework of regulation (staying in or returning to a state of feeling safe and calm when stressed); reflection (noticing, naming, and understanding one's own emotions, sensations, thoughts, values, needs, and experiences); and relationships (foundation to both well-being and resilience). In addition to the priorities identified by teachers for addressing student and teacher mental health, the report includes a brief questionnaire educators, schools, and districts can tailor to identify local needs.
"I am nervous that schools and districts across the country will use this once-in-a-generation funding opportunity to invest in interventions that don't get to the heart of the matter. If the goal of this funding is to address the impact that COVID-19 has had, and continues to have, on elementary and secondary schools across the nation, then our investments must be informed by both teacher voice and the science of trauma and attachment. The educators that nurture and care for our students have a lot of wisdom about what they need—so let's listen well so that we can spend well," said Dr. Kelley Munger, FuelEd Partner and Impact Evaluator.